As explained in Chapter 04.03 International Labour Organization (ILO), the ILO has defined and implemented the fundamental principles and rights at work in 189 Conventions and in a Declaration from 1998. Some particularly important principles and Conventions are listed and briefly explained below. A detailed overview and explanation can be found in the reference below to the ILO «Rules of the Games» with a link for download.
Since these principles are not self-executing, they have to be transformed into national law by the member states. There they can be found again – at least in spirit.
Freedom of association
The Freedom of association is the right to organise and form employers' and workers' organisations; the latter as trade unions. The Freedom of association is a fundamental prerequisite for a fair social dialogue among employers or their associations and the trade unions – in particular the collective bargaining – and with the respective government (tripartite).
Collective Bargaining
Negotiations between employers or their associations and trade unions representing workers, especially on fair working conditions and wages. Contributes in particular to the prevention of disputes.
Forced labour
Forced labour is all work or service which is exacted from any person under the menace of any penalty, and for which the said person has not offered himself voluntarily. Forced labour is a serious violation of a fundamental human rights. It's a leading cause of poverty and a hindrance to economic development. Workers in some countries are still tied to their work through a vicious cycle of debt. An increasing number of women and children are victims of traffickers who sell them into forced prostitution or sweatshops. Forced labour is also imposed as a punishment for expressing one's political views. ILO says elimination of Forced labour remains an important challenge for the 21st century.
Child labour
ILO defines as a child a person under 18 years of age. Child labour is a violation of fundamental human rights. It hinders children's development, potentially leading to lifelong physical or psychological damage. Child labour perpetuates poverty across generations by keeping the children of the poor out of school and limiting their prospects for upward social mobility.
Equality of opportunity and treatment
ILO defines discrimination as any distinction, exclusion or preference made on the basis of race, colour, sex, religion, political opinion, national extraction or social origin, which has the effect of nullifying or impairing equality of opportunity or treatment in employment or occupation. Equality of opportunity and treatment is a fundamental human right.
Tripartite consultation
It is the dialogue and cooperation between governments, employers (associations) and workers (represented by trade unions). All three parties take part with the same number of representatives. Tripartite consultations ensure a broad support from all stakeholders.
Labour administration
National labour administration systems shall be responsible for the formulation, implementation and supervision of national labour standards, employment and human resources development, studies, research and statistics on labour and shall provide support for labour relations.
Labour inspection
Labour inspectors examine how national labour standards are applied in the workplace and advise employers and employees on how to improve the application of national law in such matters as working time, wages, occupational safety and health, and child labour. Labour inspection can help prevent from problems like occupational accidents, illnesses, absenteeism, abuse of workers and labour conflict and thereby enhance productivity and economic development.
Employment policy
National employment policies promotes full, productive and freely chosen employment.
Employment promotion
The goal of Employment promotion is a full, productive and freely chosen employment.
Vocational guidance and training
Vocational guidance and training is for ILO an investment in human resources by and of its member states.
Employment security
ILO standards on termination of employment seek to find a balance between maintaining the employer's right to dismiss workers for valid reasons and ensuring that such dismissals are fair and are used as a last resort, and that they do not have a disproportionate negative impact on the worker.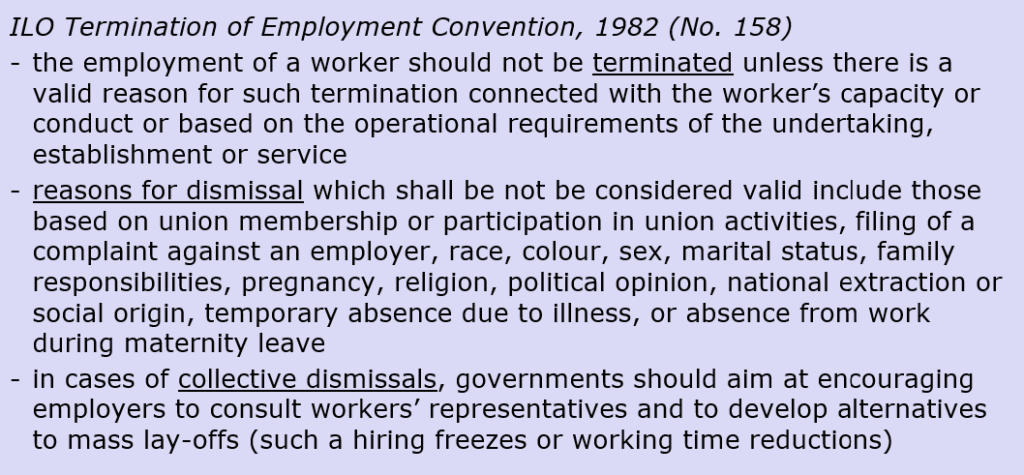 Social policy
All human beings, irrespective of race, creed or sex, have the right to pursue both their material well-being and their spiritual development in conditions of freedom and dignity, of economic security and equal opportunity. The fulfilment of this objective must constitute the central aim of national and international policy.
Wages
ILO requires regular payment of wages to workers. The member states should define minimum wages. In addition, in the case of employer insolvency, the unpaid wages of employees must be legally secured (see in particular Art. 219 of the Swiss Federal Law on Debt Collection and Bankruptcy, SchKG; no english translation).
Working time
Already in the early 19th century it was recognized that working excessive hours posed a danger to workers' health and to their families. The very first ILO Convention, adopted in 1919, limited hours of work and provided for adequate rest periods for workers. ILO standards on working time provide the framework for regulated hours of work, daily and weekly rest periods, and annual holidays.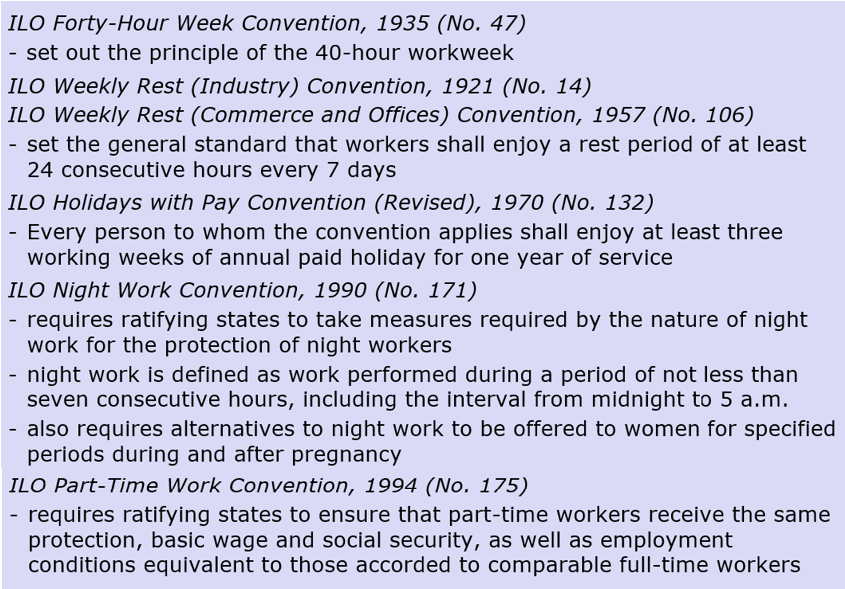 Occupational safety and health
ILO Constitution sets forth the principle that workers should be protected from sickness, disease and injury arising from their employment. ILO has adopted more than 40 standards specifically dealing with occupational safety and health, as well as over 40 Codes of Practice. Nearly half of ILO instruments deal directly or indirectly with occupational safety and health issues.
Social security
Social security systems provide for basic income in cases of unemployment, illness and injury, old age and retirement, disability, family responsibilities such as pregnancy and childcare, and loss of the family breadwinner.
Maternity protection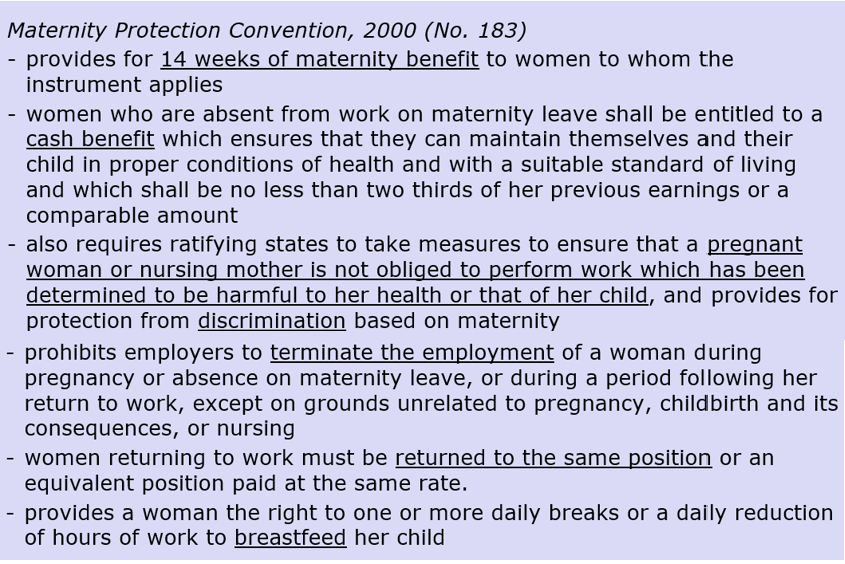 Migrant workers
ILO standards on migration provide tools for both migrant sending and receiving countries to manage migration flows and ensure adequate protection for this vulnerable category of workers.
Seafarers (seaman/woman), Fishers, Dockworkers, Indigenous and tribal peoples and other specific categories of workers
Source and literature reference: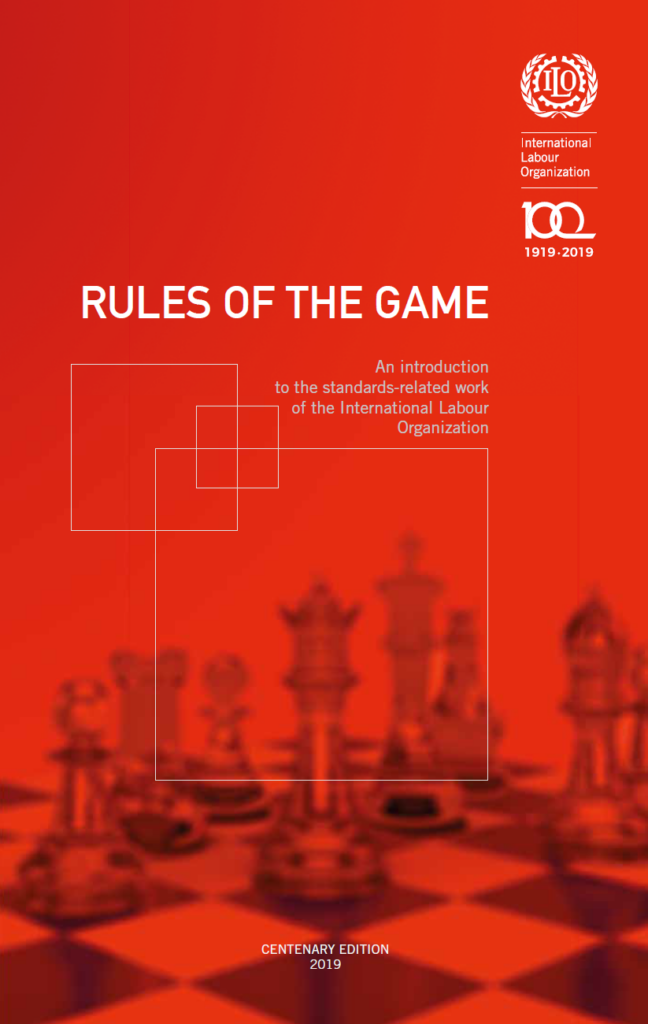 ILO – Rules of the Game – An introduction
to the standards-related work of the International Labour
Organization