A trademark is the name of a product and forms a bridge between the product and its manufacturer or the owner of the trademark. Anything that can be graphically represented and has a certain uniqueness can be protected as a trademark, even the shape of a product, but the latter must also achieve a certain degree of recognition. It is not possible to protect what is common property, such as general shapes and colours.
Legal basis
The legal basis for trademark protection in Switzerland is provided by the Federal Act on the Protection of Trade Marks and Indications of Source (Trade Mark Protection Act, TmPA, SR 232.11) and the respective Verordnung über den Schutz von Marken und Herkunftsangaben (MSchV, SR 232.111; no translation in English existing).
General conditions of protection
The Trademark Protection Act does not define the protection requirements for trademarks positively, as is the case with other intellectual property rights, but negatively, in the so-called grounds for exclusion.
Absolute grounds for refusal (TmPA 2)
The grounds for exclusion under TmPA 2 are absolute in the sense that if one of the grounds exists, trademark registration is refused ex officio. This excludes them from trademark protection:
signs which are in the public domain, unless they have become established as trademarks for the goods or services for which they are claimed
Among the most common signs whose registration is refused are those which are descriptive of the goods or services claimed. For example, it is possible to register «Apple» as a trademark for hardware and software, but not, for example, for the sale of fruit.
The term «Luzerner Zeitung» is descriptive of a newspaper of the city or region Lucerne. However, if this designation is used over a long period of time and exclusively by a publisher, the public will associate this designation exclusively with the corresponding medium over time. The designation thus becomes established on the market and becomes a so-called «established trademark». This applies, for example, to the «Luzerner Zeitung». The corresponding designation is registered as a trademark (CH-391945 LUZERNER ZEITUNG).
shapes which define the nature of the goods and shapes of the goods or packaging which are technically necessary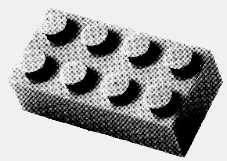 In 1993, the Danish toy manufacturer Lego System A/S registered its famous Lego brick in Switzerland as a shape trademark (CH 411469). In 2000, its competitor Mega Bloks Inc. brought an action seeking a declaration that these and other shape trademarks of Lego were invalid. Like other courts around the world, the Swiss Federal Supreme Court concluded in its decision of 2 July 2003 (confirmed by a decision of 3 July 2012) that the brick registered by Lego as a trademark is a technically conditioned shape which cannot be considered original and therefore distinctive. The shape element of the cuboid is, as such, neither unexpected nor surprising for toy bricks. Similarly, the cylindrical studs are, as such, common and customary for toy building bricks and are therefore not distinctive but commonplace. The elements do not leave the public with a distinctive impression of the toy bricks, either on their own or in combination, which is likely to stick in its mind. The Lego toy has thus been cancelled as a shape trademark (CH 411469).

A sign is misleading, for example, if it refers to a specific geographical location but the products designated by it do not come from that location although the public expects them to. This is the case, for example, with the trademark «Henniez» (CH 412821). The Swiss Trademark Office has therefore required that the words «d'Henniez» («l'eau minérale d'Henniez»), i.e. mineral water from the spring «Henniez» (see also Wikipedia «Henniez (mineral water)») be added to the description of the goods protected by the trademark.
signs contrary to public policy, morality or applicable law
With its decision of 22 September 2010, the Swiss Federal Supreme Court protected a decision by the Swiss Trademark Office not to register the name «Madonna» in the trademark register for perfumery products, among others, because such a trademark would be «immoral». «Madonna» designates the Mother of God and, if used as a trademark, is likely to offend the religious feelings of persons of the Christian Catholic faith. The Madonna is a central figure in Christianity. The singer «Madonna» would probably also have no chance of obtaining a trademark in Switzerland. The court added that the singer's importance in the entertainment industry should not be underestimated. However, it could not be assumed that the Mother of God would fade into the background before her. It is also not decisive that «Madonna» is registered as a trademark abroad. It only depends on how it is perceived in Switzerland.
Relative grounds for refusal (TmPA 3)
The grounds for exclusion under TmPA 3 are relative because they are not asserted by the Trademark Office itself, but must be asserted by a third party with, according to this provision, a better trademark right (see below), and this by means of opposition (see below). These grounds for exclusion are therefore relative to a third party or its trademark.
According to TmPA 3, signs which are excluded from trademark protection in this sense are
identical with an earlier trade mark and intended for the same goods or services
are identical with an earlier trade mark and are intended for similar goods or services, so that there is a likelihood of confusion
are similar to an earlier trademark and are intended for identical or similar goods or services, so that there is a likelihood of confusion
According to TmPA 3, earlier trademarks are those deposited or registered which enjoy priority under TmPA 6 to 8 («The right to a trademark belongs to the party who first deposits the trademark.» –> «First come, first served») or trademarks which are well known in Switzerland within the meaning of Article 6bis of the Paris Convention at the time of the deposit of the sign covered by TmPA 3. The recognition of the well-known trademark is intended to prevent foreign trademarks which are well-known in Switzerland from being registered in Switzerland by third parties before the foreign trademark owner has been able to register them in Switzerland. The special protection is only granted to foreign trademarks (BVGer B-1752/2009). According to the Federal Supreme Court's case law, a trademark is considered to be notoriously well-known if it is generally understood as a sign of origin or individualisation in one of the relevant circles in Switzerland and corresponds to a common understanding in this function (BGE 130 III 267).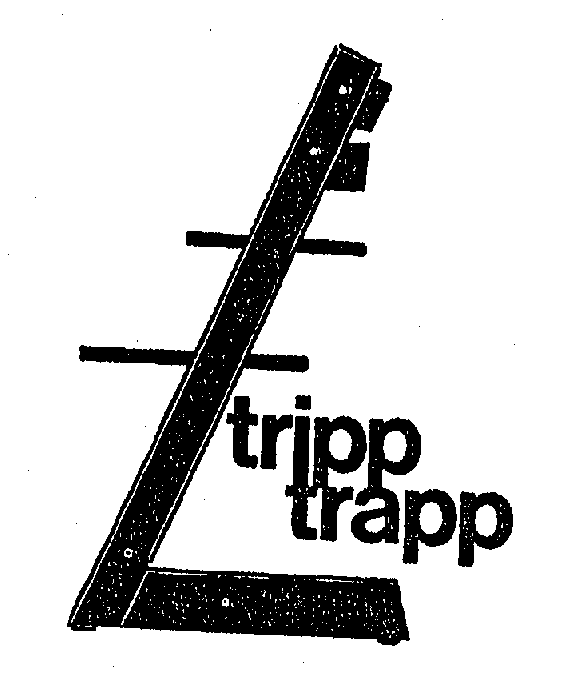 For example, the trademark of the child seat "Tripp Trapp" was recognised as a well-known trademark by the Federal Supreme Court (BGE 130 III 267).
Do you need a trademark lawyer?
In principle, it is relatively easy even as a legal layman to file a trademark for registration. This can even be done online for Switzerland via the corresponding electronic platform «eTrademark» of the Swiss Federal Institute of Intellectual Property (IPI). On the IPI homepage and on the eTrademark platform, one is introduced very well to trademark registration and guided through the process of online filing.
Things become more complex if you want to register a trademark for a product or service where it is difficult to assign it to the predefined classes of goods and services (see below), such as a social media platform like «Facebook» and where trademark offices raise objections to registration. In these cases the involvement of a trademark attorney is usually advisable or even necessary.
A trademark attorney can also be helpful in developing a trademark from a legal perspective as well as a trademark protection strategy.
Trademark attorneys are usually lawyers with or without an admittance to the bar, who are specialized in the field of trademark law. However, «trademark attorney» is not a legally protected title (such as attorney at law or patent attorney), i.e. in principle anyone can call themselves that. Thus, although the IGE still publishes a list of trademark attorneys, it now calls them «trademark consultants».
In contrast to attorneys at law, trademark attorneys do not charge for their services on an hourly basis, but at a flat rate, e.g. for filing a trademark for three classes of goods and services. If you consult a trademark attorney, this means that the costs for trademark filing are approximately doubled.
Trademark search
In order to avoid legal disputes as far as possible, a trademark should definitely be researched before it is deposited. In doing so, one must be aware of the territoriality of a trademark. Just as a trademark must be filed in every country for which trademark protection is claimed (see below), a trademark must also be researched in every corresponding country. In addition, there are also regional trademarks, such as the trademark of the European Union («Union trademark»), which can also be researched on a separate platform. Finally, one has to know that there are international trademarks which are registered according to the so-called «Madrid System» and entered in a corresponding international register, but – and this is important! – often do not appear in the national registers (e.g. the Swiss) for whose countries they claim protection. In practice, this means that in addition to the national register (e.g. the Swiss), one must always search the register of the «Madrid System». Below are some direct links to important national and international trademark registers (from a Swiss perspective):
Costs of a trademark registration
The fees for the registration of a Swiss trademark are published by the Swiss trademark office under the following link: https://www.ige.ch/en/protecting-your-ip/trade-marks/national-applications/costs-and-fees.html. The fees of an international trademark registration through the Madrid System can be calculated using the WIPO fee calculator: https://www.wipo.int/madrid/feescalculator.
Trademark deposit – trademark registration
As an applicant one does not actually «register» a trademark, but one «deposits» it. Only the trademark office will register the trademark if it fulfils the relevant requirements for protection.
Before filing a trademark, you must define in which countries you wish to claim the corresponding protection and for which goods and/or services you wish to register the trademark. For the latter, there is a predefined list (based on the Nice Agreement) with the corresponding 45 classes of goods and services, and a tool of the Swiss Trademark Office where you can enter your goods and/or services and search for the class to which they belong, the so-called classification aid (exclusively in Ger., Fr., It). The Swiss Trademark Office also publishes instructions (exclusively in Ger., Fr., It) on how to use the classification aid. The basic fee for filing a trademark includes three classes. Each additional class costs a surcharge.
In addition, the Swiss Trademark Office publishes a so-called examination aid (exclusively in Ger., Fr., It), in which one can enter terms used in one's own trademark and the database then displays the relevant key decisions on trademark registration applications, in particular decisions on oppositions, relevant rules for trademark examination under trademark law, as well as indications of source and other geographical designations protected in Switzerland by an international treaty. This provides a first impression of the obstacles that your own trademark may encounter during the registration process.
Before filing a trademark, you should also be aware of the type of trademark you wish to file, in particular a word trademark and/or a combined word/picture trademark (logo). In trademark law the following applies: registration is cheaper than discussing it later. So if there is enough budget available, you should, if possible, claim all the types of trademarks mentioned, whereby a separate registration procedure is necessary for each type of trademark. You will be asked for the type of trademark when filing. In particular, there are the following types of trademark, which differ in their form:
| | |
| --- | --- |
| Word trademark | e.g. PUMA |
| Picture trademark | e.g. |
| Combined word/picture trademark | e.g. |
| Colour trademark | e.g. yellow of Swiss Post (Colour scale: RAL 1004, Pantone 116 C/109U) |
| Acoustic trademark | e.g. jingle of Swiss retailer Migros |
| Hologram | none registered in the Swiss trademark register |
| 3-D-trademark/shape trademark | e.g. |
| Position trademark | e.g. Vans |
| Motion trademark | e.g. Swisscom |
In addition, when a trademark is filed, its purpose must also be determined. If you want to deposit a trademark without a special purpose, you choose in Switzerland the «individual trademark». There is also the «guarantee mark». This is used if you do not want to use the trademark yourself, but rather give it to a third party as a label, e.g. the Zewo Foundation's ZEWO guarantee trademark. Finally, there is the «collective trademark», which an association licenses or lends to its members, such as the FMH trademark of the Swiss Medical Association.
A trademark with protection for Switzerland can be filed online on the IPI's «eTrademark» platform (exclusively in the national languages German, French and Italian).
The ideal trademark
[Text will follow]
Publication of trademark applications and registered trademarks
Trademark applications and registered trademarks with protection in Switzerland are legally published on the online database of the Swiss Trademark Office swissreg.ch. (for research see above!)
Opposition
The owner of an earlier trademark (see above «relative grounds for exclusion», TmPA 3) can file an opposition against the registration of a trademark (TmPA 31). An opposition is a simple and relatively cheap legal remedy. An opposition against a Swiss trademark application must be filed in writing with the Swiss Trademark Office within three months of publication (see above) of the registration (not yet against the application!), stating reasons.
Term of protection
Trademark protection lasts 10 years, retroactively from the date of filing of the trademark. Trademark protection can be extended for an unlimited period every 10 years for a further 10 years (TmPA 10). An application for renewal of the trademark registration may be submitted at the earliest twelve months before the expiry date (MSchV 26).
Obligation of use
«It is not just a question of having, but of using», says the Swiss writer Jeremias Gotthelf. Since Gotthelf lived at a time when trademark protection did not yet exist, he did not refer to trademark law. Nevertheless, the quote is an excellent fit for the obligation to use a trademark.
TmPA 11 requires in principle that trademarks for the goods and services for which they have been registered need to be used. The lawmakers do not want «dead trademarks», i.e. those that are deposited in stock (as is possible with domain names, for example). According to TmPA 12, however, the law grants a waiting period of 5 years after the unused expiry of the opposition period or after completion of the opposition proceedings (see above), during which the trademark must be used for the respective goods and services. If the trademark is not used within this period, anyone can request its total or partial cancellation for unused goods or services.
It is also important in this respect to keep proof of use of the trademark (e.g. brochures, invoices)! This is because the «natural reflex» of a trademark infringer's lawyer is to claim that the trademark has not been used and to demand proof of use.
Right to continued use
The proprietor of a trade mark may not prohibit another person from continuing to use a sign to the same extent as already previously used prior to the filing of the application (right to continued use, TmPA 14). «To the same extent as already previously used» means qualitative and quantitative. For example, a restaurant may not offer new catering under the same trademark (qualitative) or open new restaurants under the same trademark (quantitative).
Use of the sign ®
The ® sign means «registered» and may only be used for effectively registered and published (see above) trademarks. If the sign ® is used for unregistered trademarks, this constitutes unfair behaviour (Swiss fair trade law UWG 3 I b), which is even punishable (UWG 23). This is because the ® signals to a competitor that the sign in question is occupied and blocks the market to this extent.
Danger of confusion
One of the most frequent trademark disputes is the allegation of likelihood of confusion. In other words, the owner of a trademark claims that the sign used by a third party leads to confusion with his trademark entered in the trademark register. The latter is important. Under trademark law, the owner of a trademark can only ever claim what is effectively registered in the register and not what is effectively used. For this reason, it is important, for example, when a logo is changed, to register the changed logo as a trademark again; at least if the change is substantial.
There is a likelihood of confusion if identical or similar signs are used for identical or similar goods or services, thereby causing misrepresentation (TmPA 3). The goods and/or services registered with the trademark and the two conflicting signs must therefore be considered.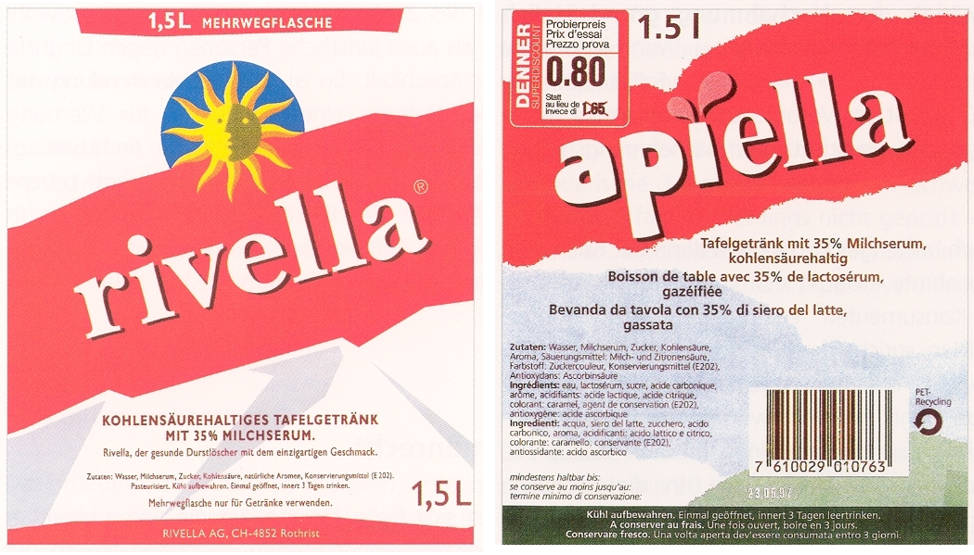 A prominent example of a likelihood of confusion is the dispute between the drinks manufacturer Rivella and the retailer Denner concerning the sign «Apiella» used by the latter, also for a milk serum drink. In such a case, the courts first compare the relevant visual elements, but also the sound and meaning of words. Only the counterpart of the registered trademark is compared (see above). The remainder of the product, the so-called features, are also assessed on the basis of the Swiss fair trade law (UWG 3 I d).
The case «Rivella vs. Apiella» is discussed in a separate chapter –> «Rivella vs. Apiella»